Margie Wylie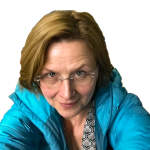 Margie Wylie joined the Computing Sciences (CS) Communication team in 2010 as a public affairs specialist, primarily serving the National Energy Research Scientific Computing (NERSC) Division. Since 2011 she has been the web coordinator leading the strategy, development and content coordination for all CS sites (cs.lbl.gov, es.net, www.nersc.gov and crd.lbl.gov). She also produces InTheLoop, the weekly Computing Sciences newsletter.
Wylie was previously a journalist, most recently for the Newhouse News Service, where she served as national correspondent for science and technology. Prior to that, she was an assistant business editor for technology at the San Jose Mercury News and an editor at CNET's News.com, one of the first web-only news operations. Between her journalism career and the lab, Wylie spent several years at a San Francisco marketing agency, working primarily with high-tech clients.
She has had great fun appearing in broadcast television coverage of email privacy on CBS 60 Minutes and Internet privacy in a PBS Frontline documentary, as well as putting in semi-regular appearances on Silicon Spin, a program produced by the dearly departed TechTV cable channel.