Margie Wylie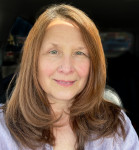 web coordinator and digital media producer
Margie Wylie is the Computing Sciences Area (CS Area) web coordinator at Berkeley Lab and a digital media producer. She leads the strategy, development, and content coordination for websites and produces the Area's e-newsletter and multimedia projects, including video, audio, and other digital media, such as immersive 3-D tours and interactive timelines.
Wylie joined the CS Area communications team in 2010. She was previously a journalist whose work appeared in the Wall Street Journal, Chicago Tribune, San Francisco Chronicle, and more. She served as a national correspondent for science and technology at a Washington, D.C.-based wire service, Newhouse News. Before that, she was an assistant business editor for technology at the San Jose Mercury News, managing editor for Digital Media, and opinions editor at News.com, one of the first 24/7 web-only news operations. It was at News.com that the multimedia bug bit. There she helped produce some of the first-ever video and audio reports for online consumption. Between her journalism career and the lab, Wylie spent a few years at a San Francisco marketing agency, working primarily with high-tech clients.
In the heady early days of digital media and the Internet (when the "Information Superhighway" was rare and mysterious), she had great fun appearing in broadcast television coverage of digital privacy on CBS 60 Minutes and PBS Frontline, as well as putting in semi-regular appearances on Silicon Spin, a program produced by the dearly departed TechTV cable channel. Although Wylie's days of on-camera work are well behind her, she still enjoys producing media-rich content of all kinds from the other side of the lens, microphone, and desktop.
She's also a collector (and reckless wielder) of vintage film cameras, including her favorites, a Nikon FM2n and Ikoflex TLR.
Need Help?
Want to submit an item to IntheLoop? Have a website question? Want to request help with photography or video? Wondering why you are getting emails about claiming publications? Visit the CS Comms Help portal.